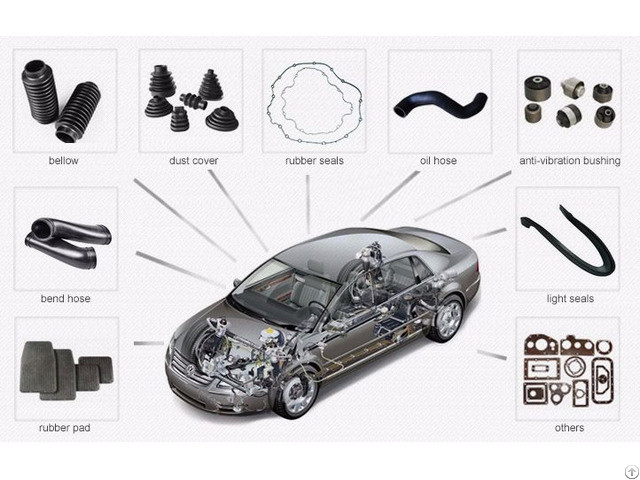 Auto molded rubber parts
All kinds of molded rubber parts are used for
automobile. Such as rubber radiator hose, rubber
grommet, rubber bellow, rubber mounting/buffer and so on.
They have separate function in automobile .
To connect the radiator and the other part of the
device safely we use the radiator hose.
To reduce the noise and thermal movements along
with the reduction of the vibrations between the
equipment of automobile.
For protecting the cables that pass through the metal
parts we use a rubber grommet
Rubber buffer can be used to reduce the noise in the
base of the power transformers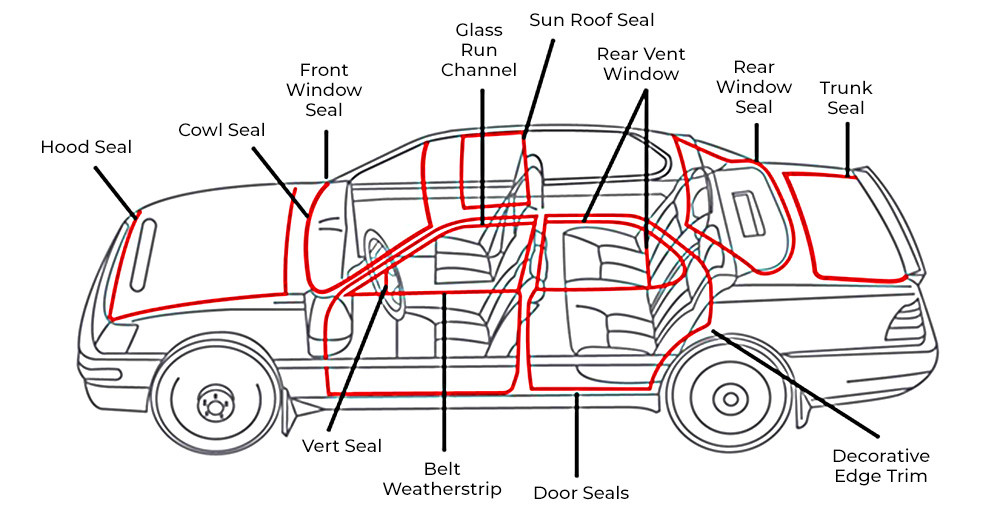 Auto extruded seal

All kinds of extruded rubber profile are used for
automobile. Such as rubber weather strip, rubber
door seal, rubber window seal. Rubber edge trim and so on.
Rubber Weather strips are a crucial part of any vehicle
which effectively seal the inside of the vehicle and
prevent various outside elements like water, air, dust
and noise from entering the vehicle cabin.
The rubber door and window seal is attached to
vehicle door with self-adhesive tape or plastic
retaining clips and acts as the first sealing barrier
between vehicle door or window and body. The
primary door seal is used together with secondary
door seal to achieve better performance.
The rubber trim seal fits into vehicle body panel and
plays a major role in isolating the vehicle cabin from
outside water, air, dust and noise. The door seal also
buffers impacts from the opening and closing of door
and ensures easy closing and better sealing effect.
It is often coated with colored EPDM rubber which
has the same pattern with vehicle interior to provide
elegant appearance
The mostly used material for manufacturing weather
strips is EPDM rubber which has superior resistance to
outdoor weather, water, ozone, sunlight, etc. TPE/TPV
and PVC are also used for some parts.
The structure of door seal is as below
EPDM Sponge Rubber
EPDM Solid Rubber + EPDM Sponge Rubber
EPDM Solid Rubber + EPDM Sponge Rubber + Metal Carrier
EPDM Solid + EPDM Sponge Rubber + Metal Carrier +
Colored EPDM Coat
Flocked Glass Run Channel (EPDM Solid Rubber + Flock)
Coated Glass Run Channel (EPDM Solid Rubber + Polyurethane Coating)
Hybrid Glass Run Channel (EPDM Solid Rubber + TPE Slip-coating)
TPE-V (TPV) Extruded Glass Run Channel (TPV + Co-extruded on slip-coating)
PVC+Metal Insert+Flock